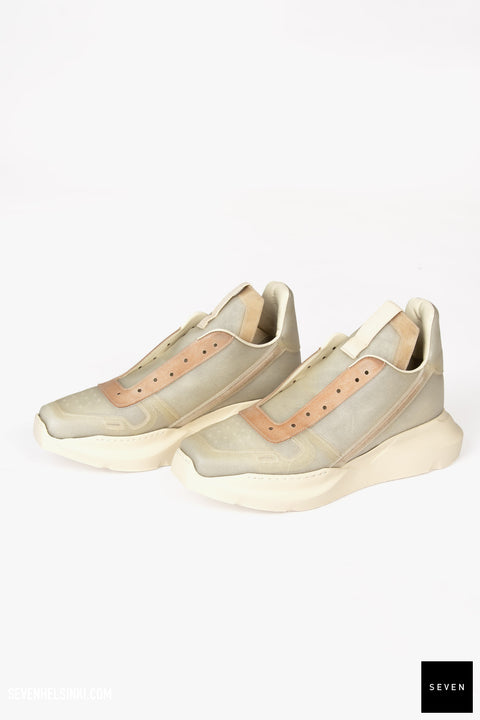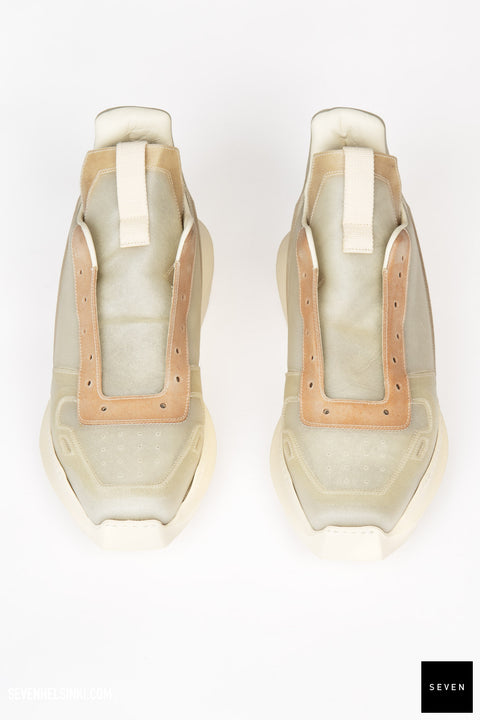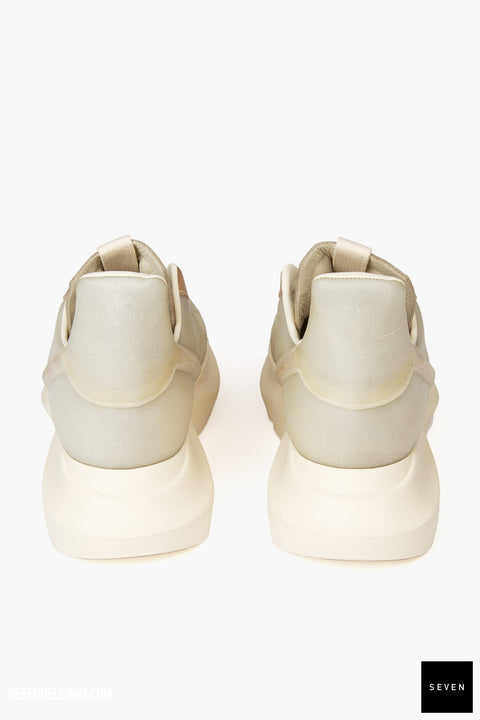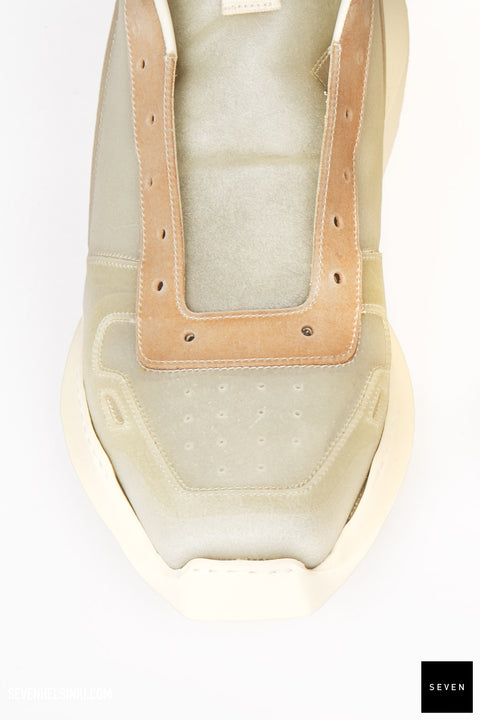 GEO GETH RUNNER
by Rick Owens
1.020 €
823 €
(vat 0%)
TRANSPARENT COW LEATHER SNEAKERS
 THIS SEMI-TRANSPARENT LEATHER IS INSPIRED BY PARCHMENT. IT IS MADE USING A SPECIALIZED GLYCERINE TREATMENT AND HAS A SOFT AND OILY HAND FEEL.
 THIS LEATHER IS THE FIRST SOFT LEATHER PRODUCED USING THIS TECHNIQUE MADE ON A FULL GRAIN COW. THE HANDFEEL IS NOT CREATED FROM A FINISH, RATHER, THE LEATHER IS TANNED WITH SOAP DURING THE FINAL STAGES OF THE LEATHER PRODUCTION AND THE GLYCERINE CONTENT FILLS THE PORES OF THE SKIN AND CREATES THE SOFT HANDFEEL WHILE KEEPING THE SKIN TRANSPARENT. THEY CAN ADD COLORS TO THE GLYCERINE TO CREATE DIFFERENT COLORS.
THIS QUALITY MAY RANGE IN RIGIDITY AND MAY CHANGE WITH HEAT OR MOISTURE AS THE SKIN'S PORES ARE LEFT OPEN AND THUS CREATES ALMOST AN 'ALIVE' SKIN THAT CAN REACT WITH ITS ENVIRONMENT.
RR01C4814 LCTLPO 2111 NATURAL/MILK/MILK
UPPER 100% CALF LEATHER
DETAIL 100% CALF LEATHER
LINING + INSOLE 100% CALF LEATHER
SOLE 100% E.V.A.
Rick Owens - MADE IN ITALY